Zero Robotics Middle School Summer Program 2014
Info
Teams
Leaderboard
Submission Log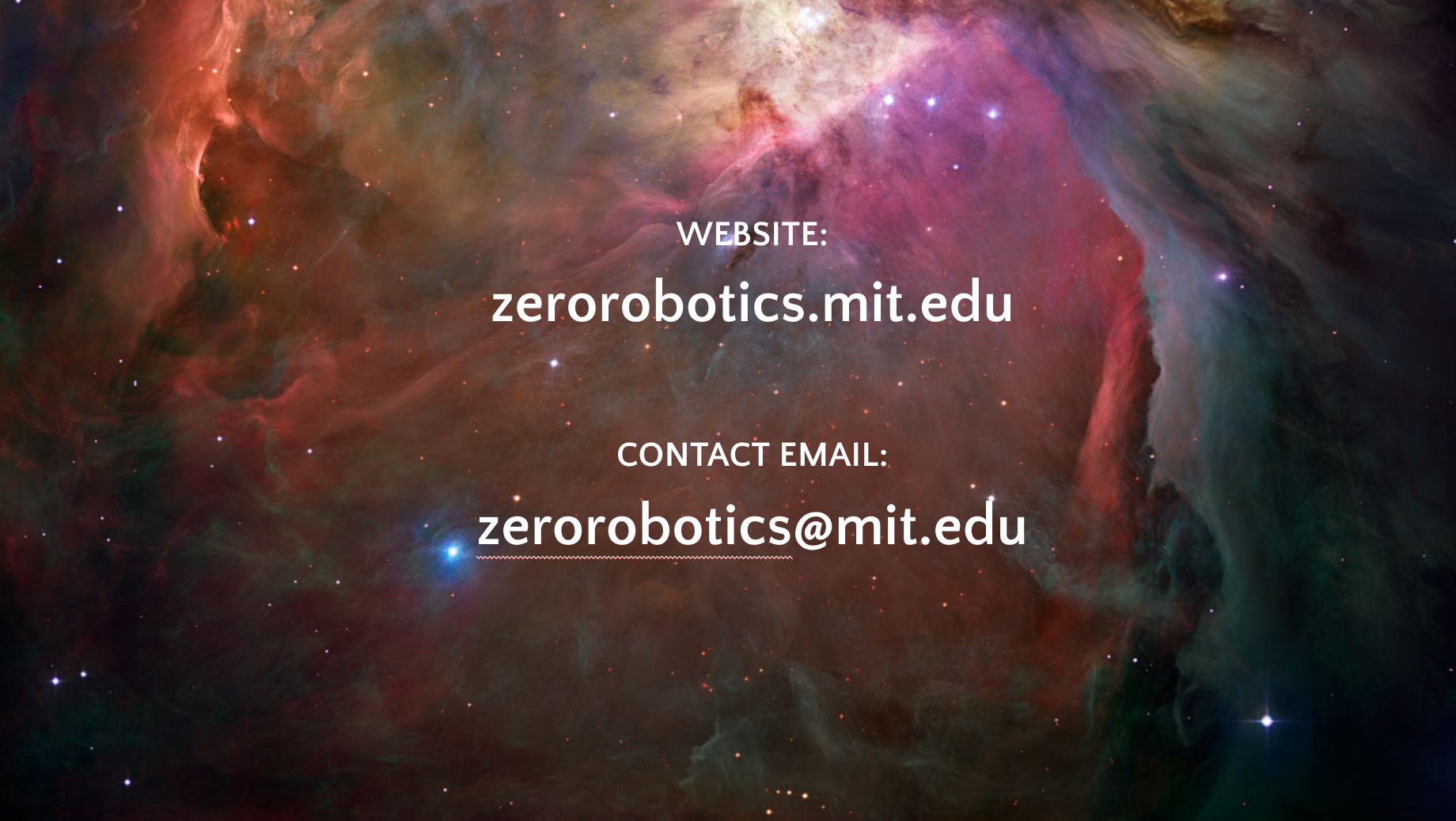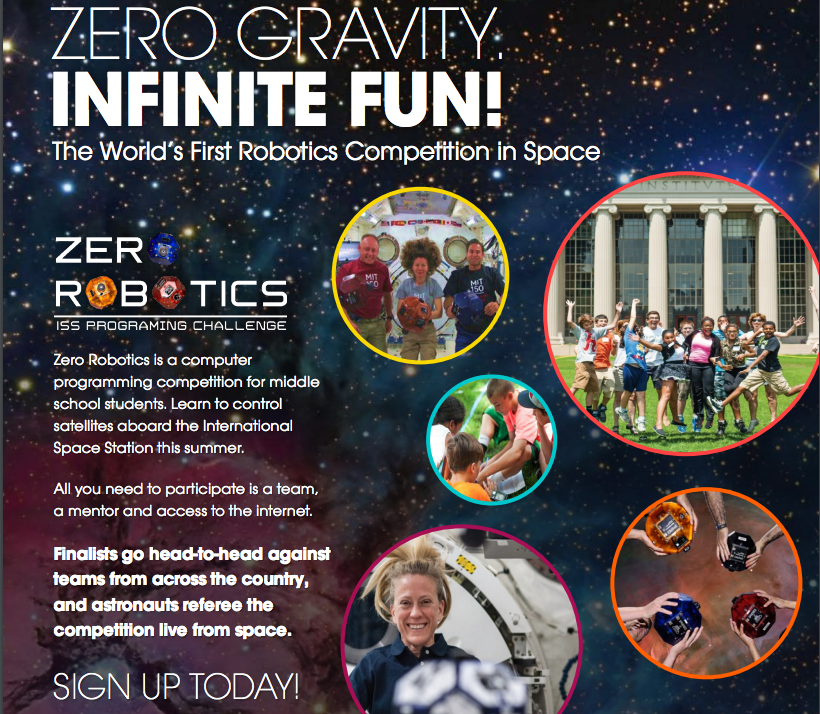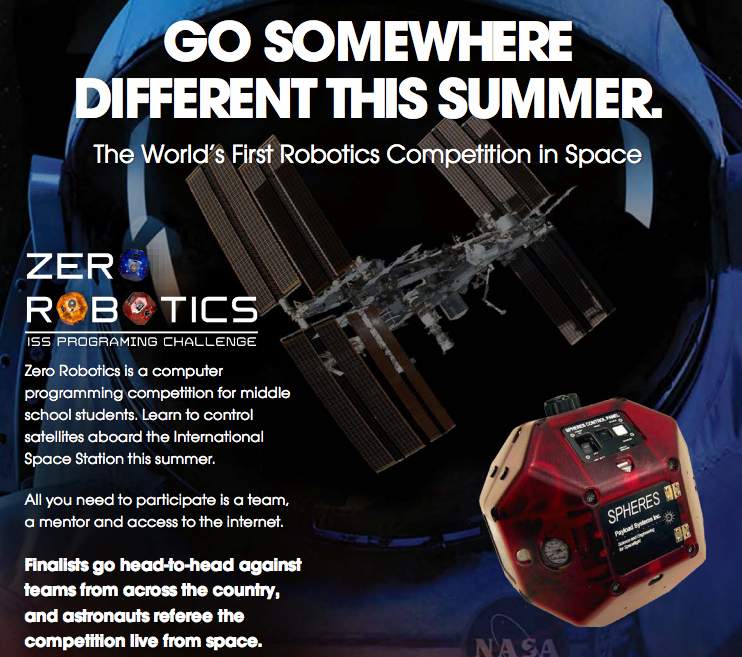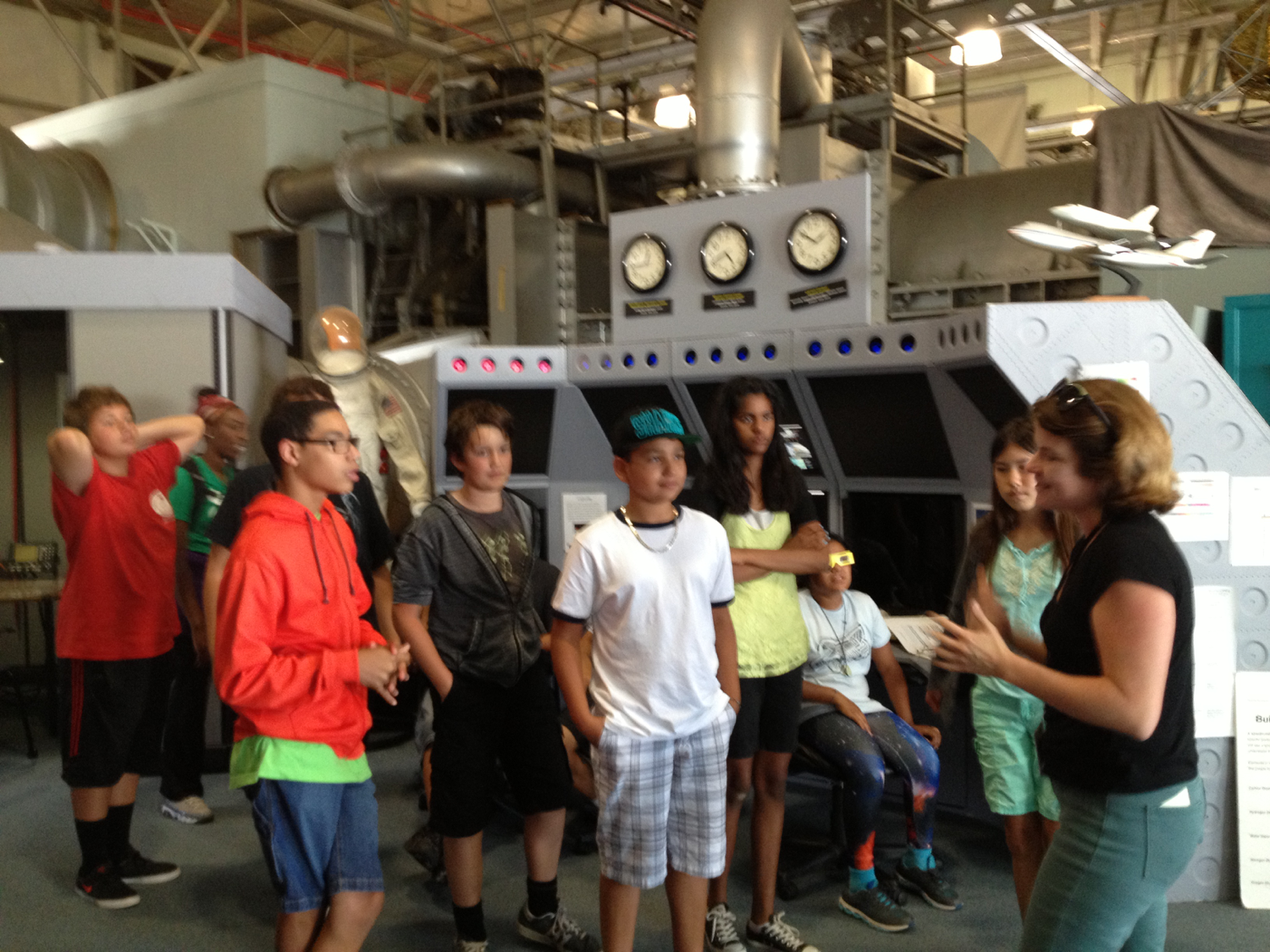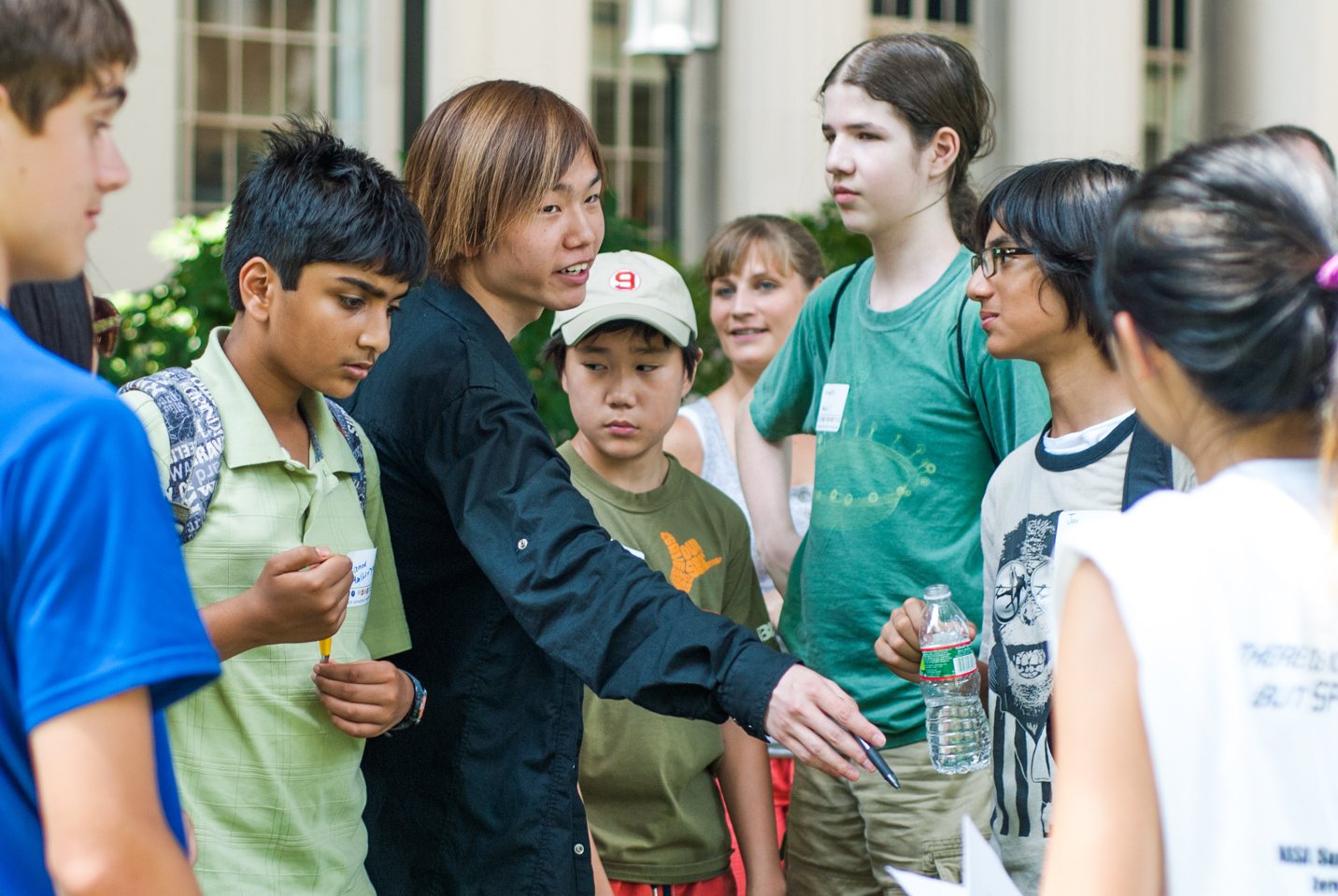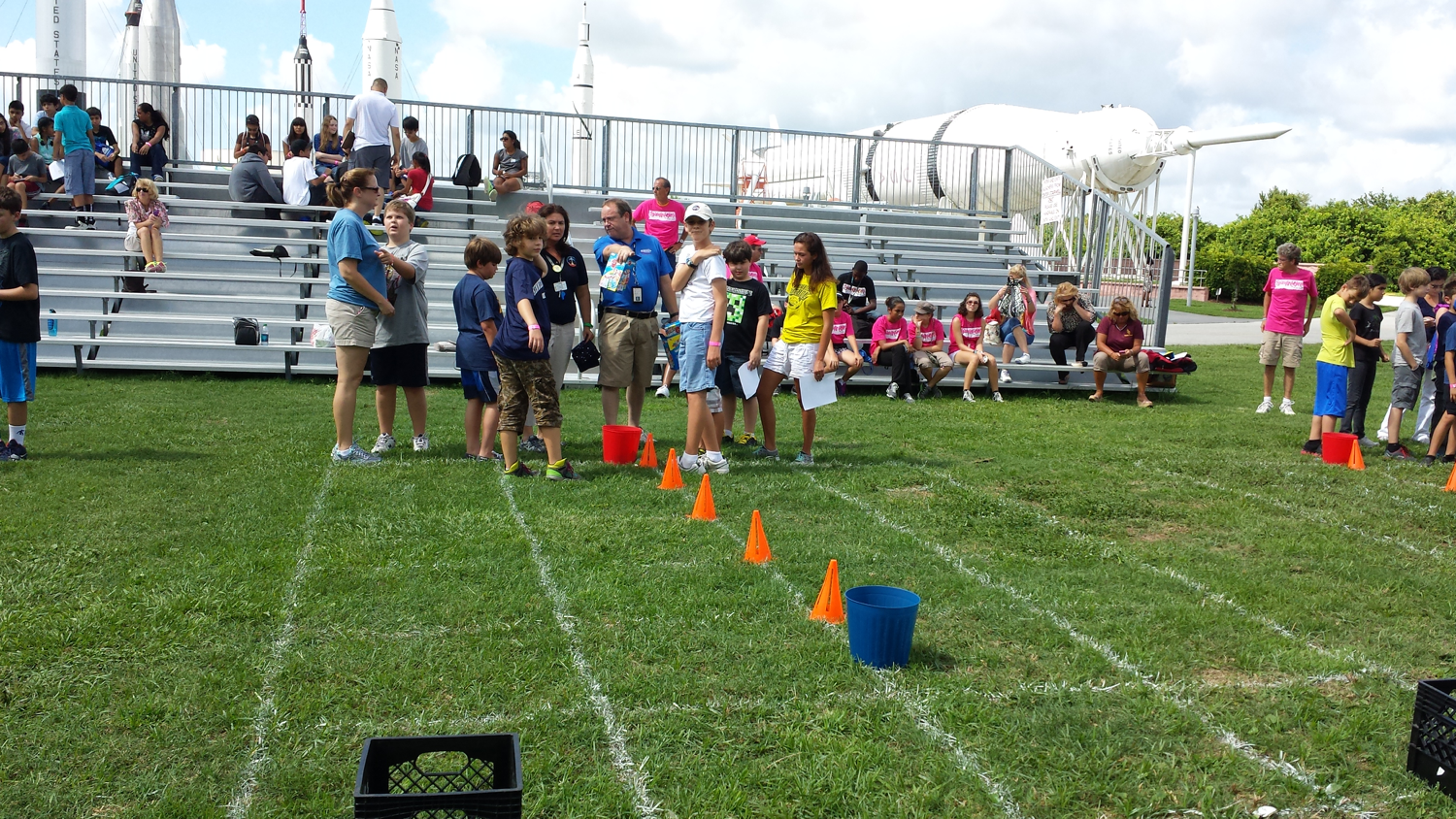 Zero Robotics Middle School Summer Program
Sponsored By: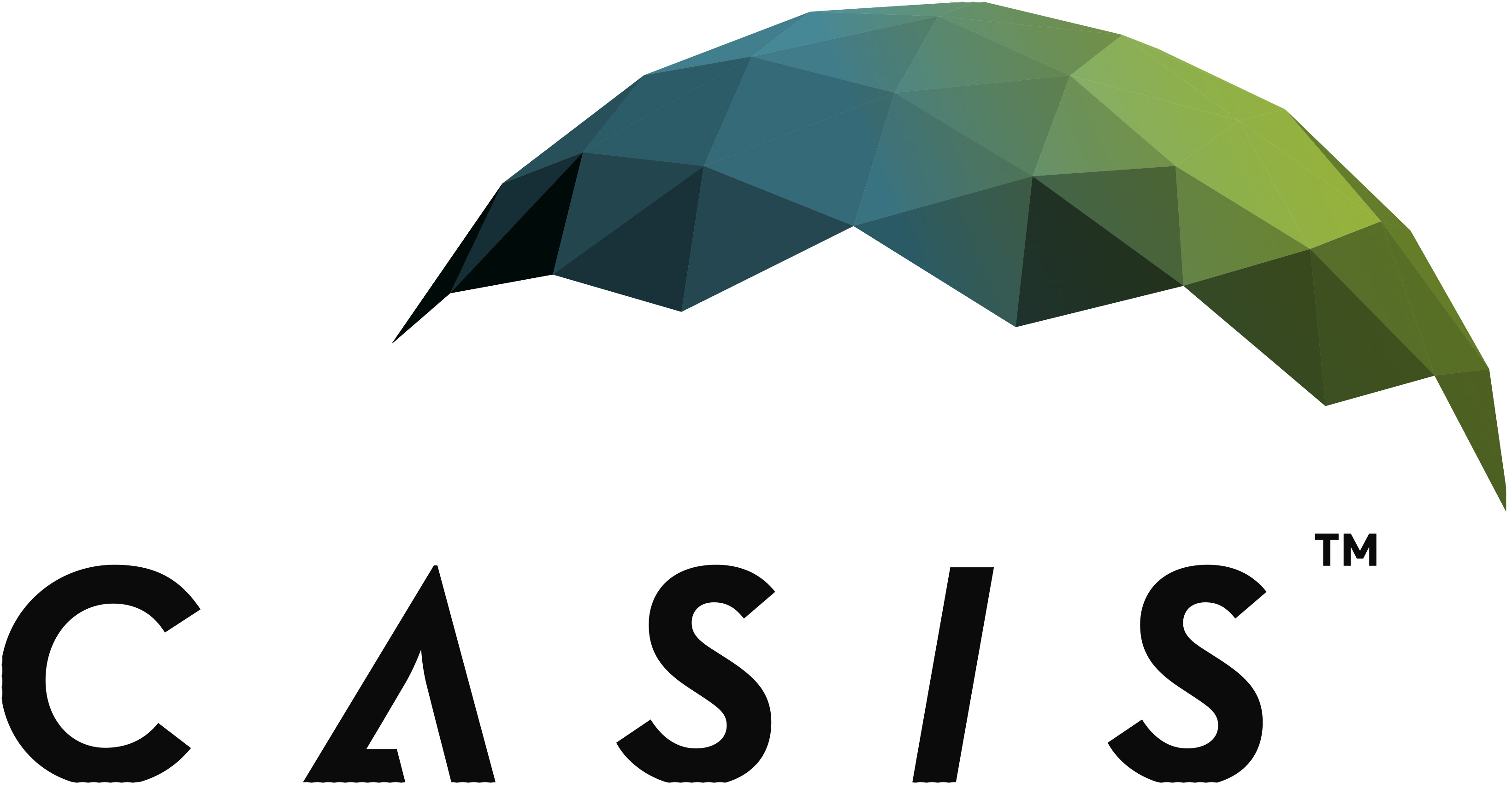 The Zero Robotics Middle School Summer Program is an innovative and inspiring program for middle school students that is truly out of this world! The five-week STEM curriculum introduces students to computer programming, robotics, and space engineering, and provides hands-on experience programming SPHERES ( S ynchronized, P osition, H old, E ngage, R eorient, E xperimental S atellites). The program culminates in a tournament where winning teams' SPHERES battle aboard the International Space Station (ISS). Middle school participants will get to see the SPHERES operate in space via a live feed from the ISS while NASA astronauts provide real-time commentary.
Zero Robotics Middle School Summer Program is provided through a partnership between the MIT Space Systems Lab and the Massachusetts Afterschool Partnership (MAP) with support from Aurora Flight Sciences and TopCoder. Zero Robotics is sponsored by NASA, the Defense Advanced Research Projects Agency (DARPA), and the Center for the Advancement of Science in Space (CASIS).
Zero Robotics seeks to inspire our next generation of great minds by allowing them unprecedented access to space at the middle school level. By making the benefits and resources of the International Space Station tangible to students, Zero Robotics hopes to cultivate an appreciation of science, technology, engineering and math through healthy, immersive, collaborative competition.
Program Locations
Due to the complexities of programming in space within the context of a middle school summer progam, we currently offer the 2014 Middle School Summer Program by invitation only. This year the Middle School Summer Program is expected to be available to selected middle-school aged teams in Alabama, California, DC Metro Area, Florida, Georgia, Idaho, Massachusetts, Ohio, and Texas.
Program Overview
Zero Robotics provides educators with the necessary training and ongoing technical support needed to provide middle school students with an experiential learning opportunity in computer programming. Zero Robotics builds critical engineering skills, including problem solving, the design thought process, operations training, and teamwork. It connects students with prominent scientists and encourages them to pursue careers in the fields of science, technology, engineering and/or math.
Student participants compete to win a technically challenging game by programming their strategies into the SPHERES. Students' programs control the satellites' speed, rotation, and direction of travel. The students program their satellites to complete competition objectives, for example navigating obstacles, while conserving resources such as fuel. The programs are autonomous - that is, the students are not able to directly control the satellites while they are running.
Each year's game is motivated by a problem of interest to DARPA, NASA, and MIT.
Students create, edit, save, and simulate projects online. They use a graphical editor to write code, then simulate their programs immediately and see the results using a simulation. The programming interface and simulation are entirely web-based, so ZR does not require any software downloads or computer configuration. The system even allows teams to compete against themselves and against pre-designed standard players, so that they can test different strategies before finalizing their competition submissions.
Educator Training
Training for the Zero Robotics Middle School Summer Program is provided as a 3 day sequence. Educators in each state meet together for the first training session and join on-line training for the 2nd and 3rd sessions.
Dates
- Part 1: Wed May 14th
- Part 2: Wed May 21st
- Part 3: Wed May 28th
Times:
3:00pm - 6:00pm EST
Program Periods
:
The program schedule varies by state as shown below with the final ISS competition occurring in Mid- Aug.
Schedule 1 : AL, GA, OH, TX
| | |
| --- | --- |
| | During week beginning: |
| Week 1: | June 9 |
| Week 2: | June 16 |
| Week 3: | June 23 |
| (no program) | June 30 (4th of July Week) |
| Week 4: | July 7 |
| Week 5: | July 14 |
| ISS Finals | Mid-Aug |
Schedule 2: CA, FL, ID, MA, MD/DC
| | |
| --- | --- |
| | During week beginning: |
| Week 1: | July 7 |
| Week 2: | July 14 |
| Week 3: | July 21 |
| Week 4 | July 28 |
| Week 5: | Aug 4th |
| ISS Finals | Mid-Aug |